It was so hard having to go back to Tonga again, all that sunshine and warm blue water.
But when challenged a man has to rise to the occasion, grab the world by the g-----s and accept the inevitable. So Friday the 20th of October saw us all gather at Auckland airport for our flight to Tongatapu the main island of the group.
This time Judy was joining me as a non fishing guest, along with two other wives, out of the 20 fishing, 6 were ladies. Also along was an old friend of mine, he used to live nearby, but as a dairy farmer with a growing family they wanted to work his son into the farm. There was not the acreage to support this and no nearby land for sale at farming prices, we are too close to Auckland. After looking around the country they settled on a partly developed farm mid way on the west coast of the South Island. With the Southern Alps up to 13000ft and across the prevailing westerly winds they get 9 to 15 ft of rain a year. The land is peat over shingle and development involves a big digger making humps and hollows for drainage.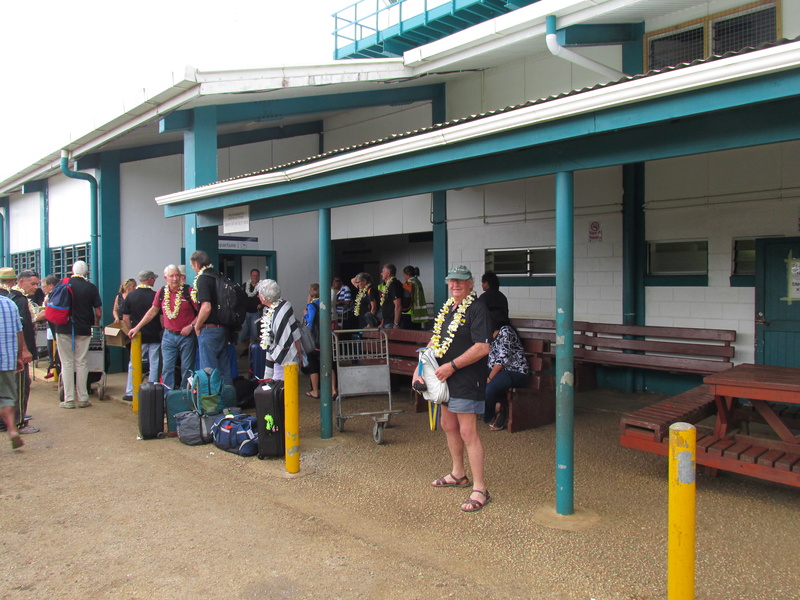 Steve in the cap and Judy in the striped shirt at Vavau airport, one hours flight from Tongatapu
The friendly competition was organised and led by Grant Dixon the editor of NZ Fishing news our leading (by a long way) fishing magazine. He does a number of world wide trips each year, often worked around fishing trade shows and new outboard motor promotions.
The competitors are in teams of four, two couples or casual teams and on the first night the team captain, me (the only one of our team to have been before) picks an envelope containing 4 others, each one marked with day 1 to 4, containing the next days boat name for their team. This means that every team has as much chance as any other, and apart from experience each angler has the same chance. We had a well fancied boat for the next day. The fishing is all trolling lures for game fish, with 100 points for each tagged marlin, or 1 point per kg. If the fish is landed and weighed, for tuna, mahimahi and wahoo, which are all landed, there is a minimum weight of 10kg, and 1 point per kg if over this. with short billed spearfish and sailfish, these are the only scoring fish. It is up to the angler whether to land or tag marlin, but all fish belong to the boat and are either sold or given to the village. Fishing is for 8 hours each day, each angler having 15 minutes on strike, rotated 15 minutes each of the 4 days. Anglers were me Steve, Shane and Dave.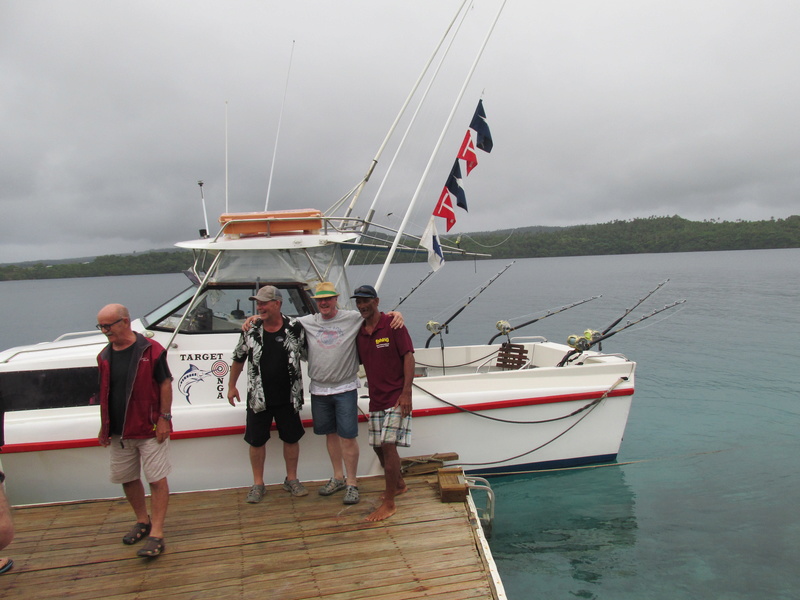 Our boat, Target one, the skipper Henk, decky Folau Dave and Shane
Our first day was a blinder, nothing for 3 hours, then the decky saw birds working in the distance and on our second time past them 4 rods went off within seconds, they say game fishing is 95% boredom and 5% mayhem. With one angler in the chair, the other three had to stand, changing position when lines crossed, and we soon had 4 small yellowfin tuna, all from 8.5 to 9.5kg when weighed, no points, but a good morall booster. They were a bit outgunned on 60kg and Penn international reels, but with the odd 300kg blue marlin around, well. The next pass saw only one strike, a similar fish
4 happy boys, Me, Dave, Steve and Shane with Yellow fin tuna
Steve and his second YF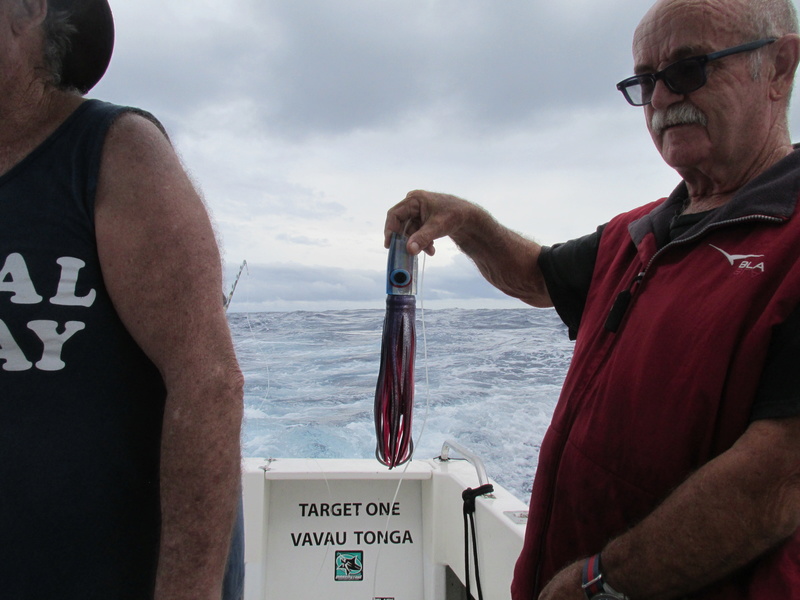 The skipper Henk and the lure for the first marlin, (Made by A friend from my fishing club)
Nothing more untill mid afternoon and low tide, for some reason the best fishing time when the skipper saw some bait fish schools on the sounder, only very small dots, but the only sign of any life apart from the sea birds flying aimlessly about. He decided to concentrate on an area about 1 km long and trolled figure 8s. Soon a rod went off with a 70kg blue marlin leaping across the swells, it was Dave's first marlin, and after half an hour the fish was at the boat side and released with a tag in its shoulder.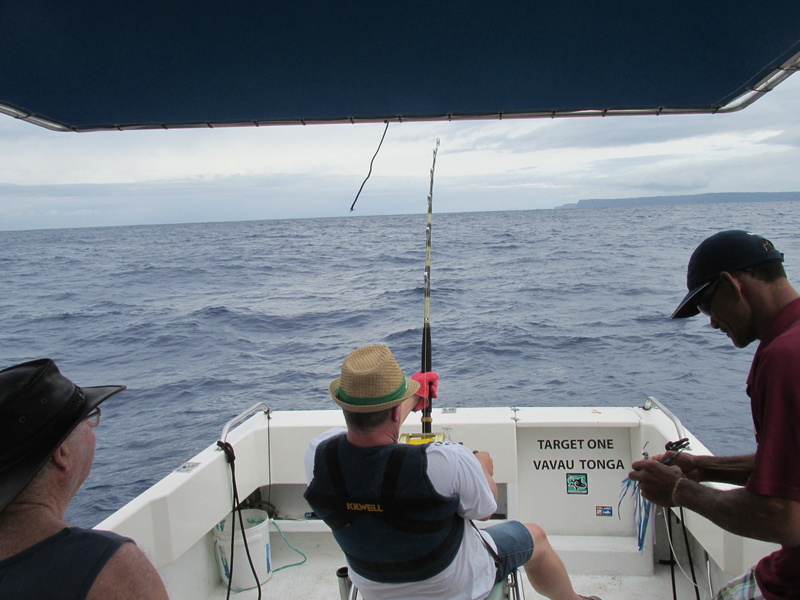 Dave working the fish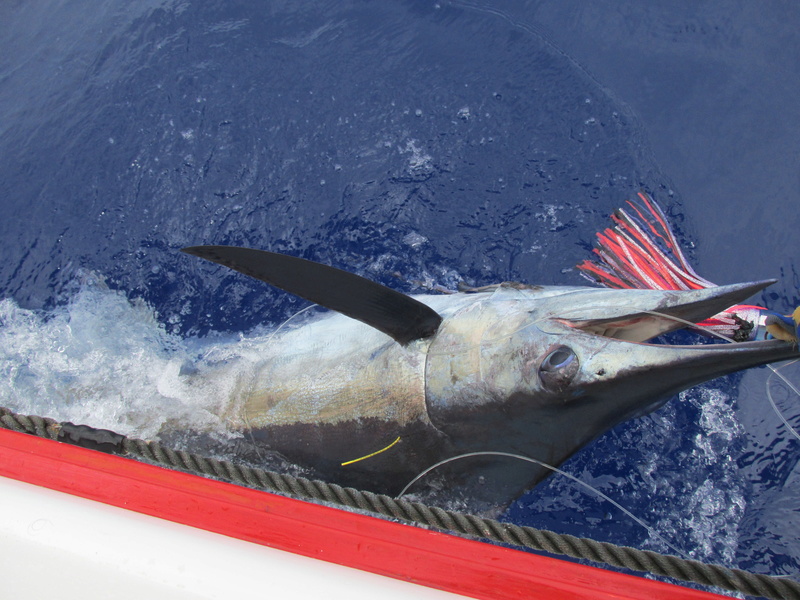 His first marlin
half an hour later at the start of Dave's spell off went a rod with a similar sized fish which dropped the lure after leaping a number of times, the lure was checked and put out again, another strike and another dropped lure straight away, then a third strike still within his 15 minutes this one stuck and was soon tagged and released. All strikes, hook ups and tagged or landed fish are called in to the base radio, and with little happening on the other boats, we were well happy.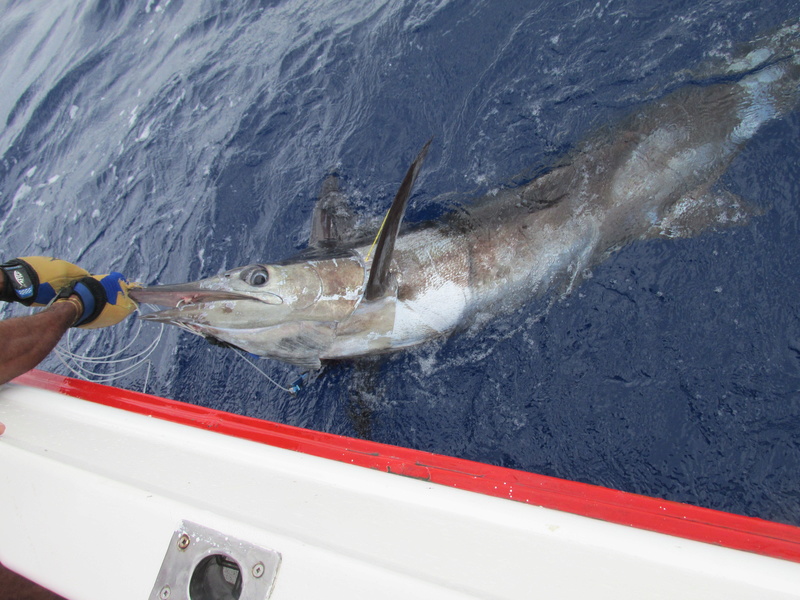 Shane's fish
Lures out again and off went another rod, my turn, the fish did not jump, and was much smaller, 5 minuted later a short billed spearfish was by the boat, the decky had the trace and Steve the tag pole, the skipper asked what I wanted to do and I said land it. That couple of seconds of hesitation saw the hook fall out and the fish gone, thats fishing. Half an hour later with no more action and 4pm end of fishing was called.
At the prizegiving our team were in the lead as only one other fish had been tagged, a big fish 200kg plus was dropped near the boat for another team. One small wahoo was also caught.