Set off for the Mersey at 9am with Old Gregg, Munch, James and Shaun (only feather chucked previously) . Weather forecast was fine if a little nippy. High 9.5m
Arrived about 10:30 to fish it up an hour (ish we were a bit late) and a few hours down, plenty already fishing when we arrived. Walked down towards the ferry terminal to find a spot, set up whilst James found a park and more importantly a thrown lug bed. Must have been 20-30 lug just scattered around the floor, picked them up and used them

 good quality too!
As usual late to the party, I asked a few as we walked down how it was fishing. Slow seemed to be the theme.
4 rods out between us, all using two hook flappers. 3  rods on fresh frozen and mine on fresh found floor lug...

Soon became apparent it was more than a little nippy as it tried to snow. First cast, 5 mins in and I was in first with this little beaut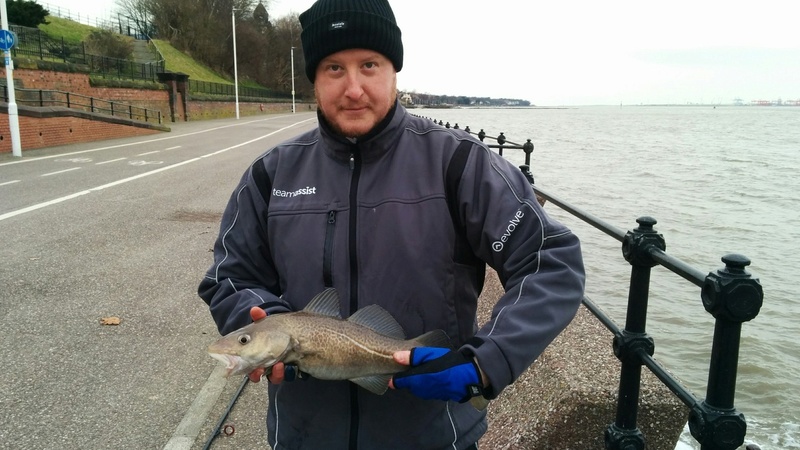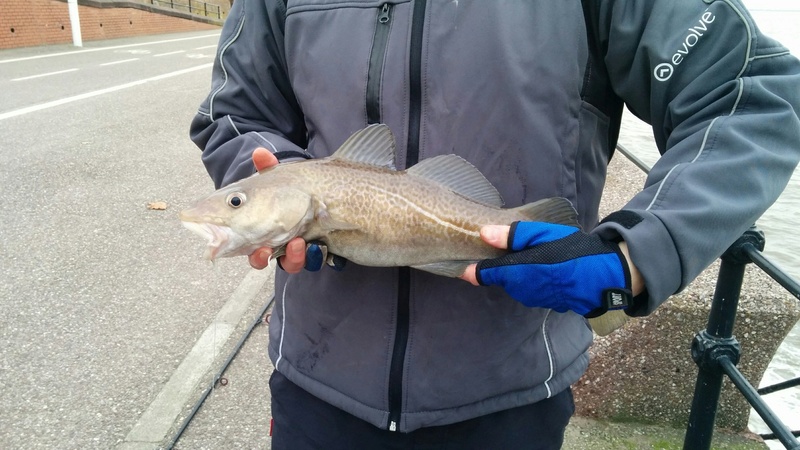 Following we had a steady stream of fish, double headers etc. Usual suspects, whiting, Dab, lots of small cod and a rockling (think we also had a flounder) The cold was relentless, I had left a few bits in the car as I didnt think it would so cold, Sean told me he was dressed fine as hes used to it as he works outside....tried to warn him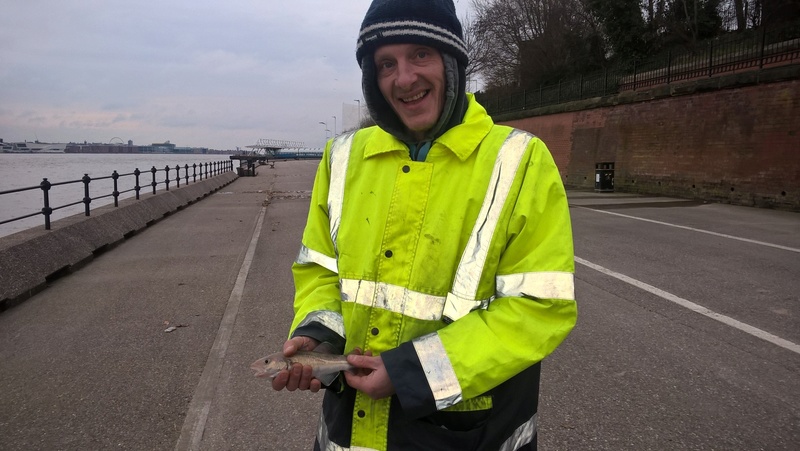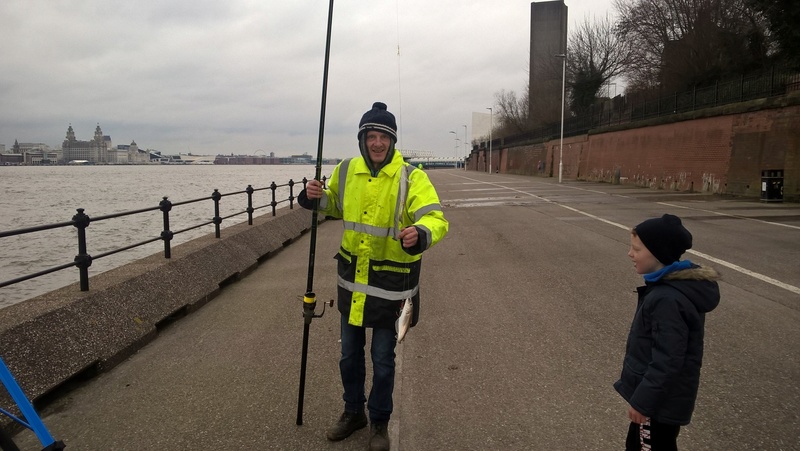 Munch with his first fish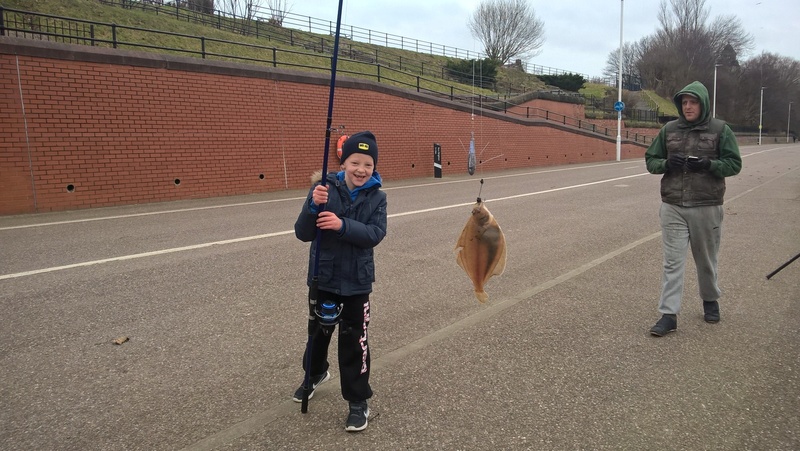 It was a good session with a beltin start, this little fella signalled the end of fishing as nothing else came but a few crab knocks that followed it.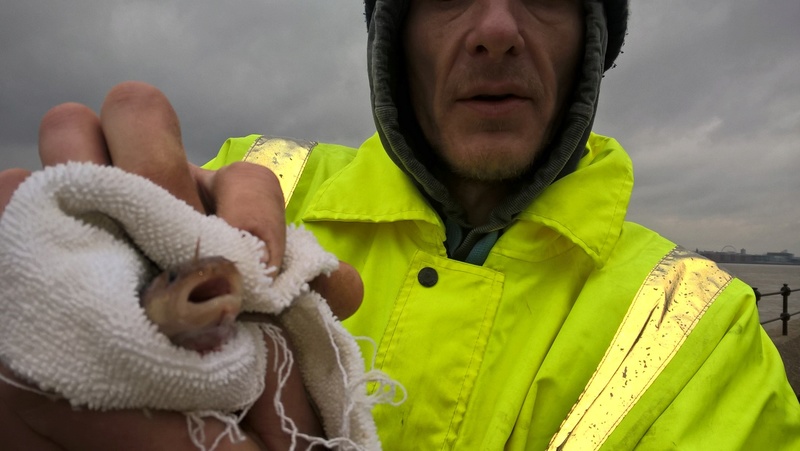 We headed back to the car, there was only one person left fishing and he couldn't have been in more than 2 foot of water. At this point I was slightly worried as everyone was looking cold with loss of finger feeling etc  

 and we have part two to take care of.
Headed down to Perch Roch, called in at home bargain for some 2 hr burn fire logs. Sat in the car park whilst everyone filled up on food/drink and as we were ready it stopped spitting too. This time we prepared better, more layers and Shaun borrowed my canary commando gear.
Arrived and there was a match just about to start, not many fishing it but given the cold it was understandable.
To the left a few came shortly after us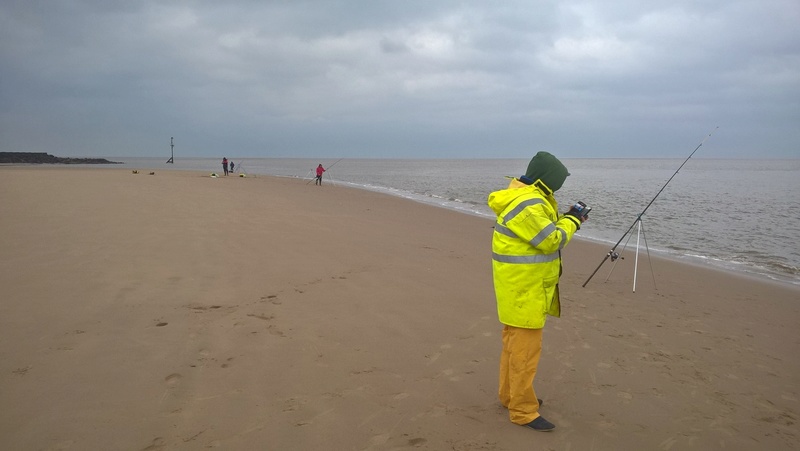 To the right, the guys who were on a match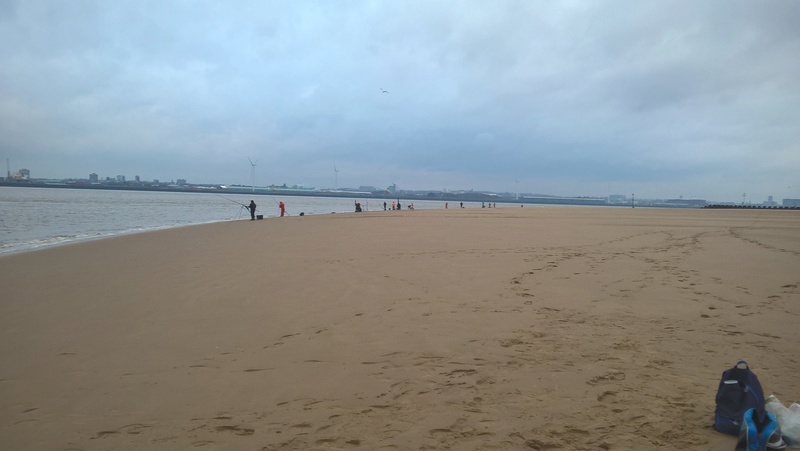 Base camp setup with beach shelter and fire log, kids happy...fish on..
It was a lot slower than I usually find it, but last time it was this slow it was also on a very big tide which I thought should be lesson learned until a little later.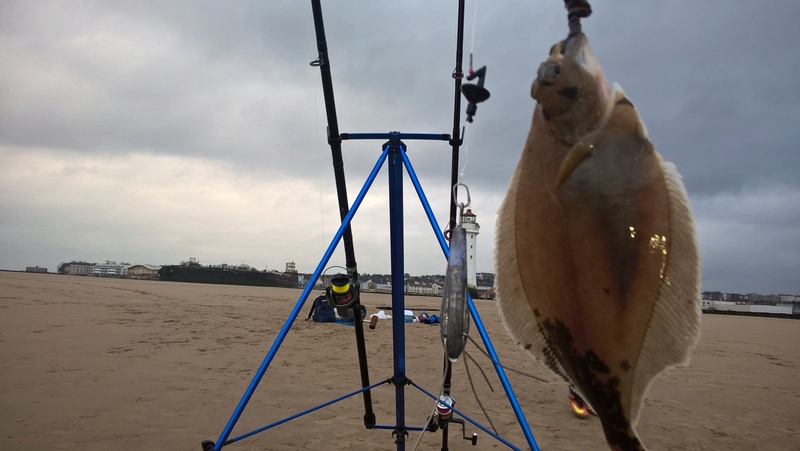 Sean in full canary commando gear.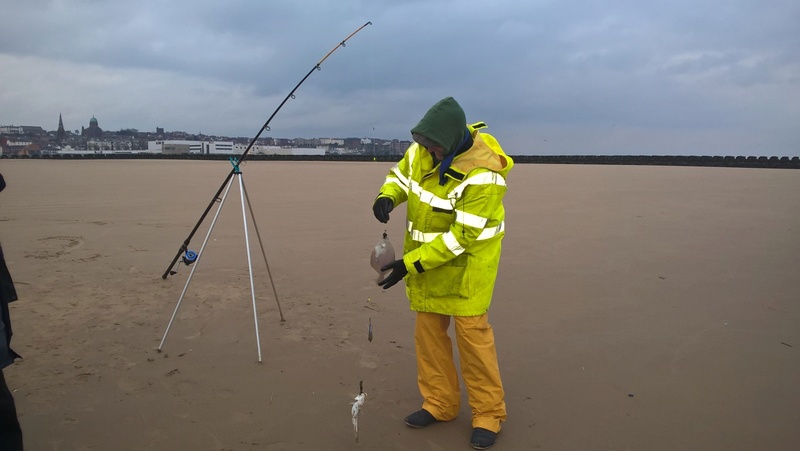 Previously at Perch Rock I had caught a one eyed whiting and one with a huge eye but this was a first...no eyes! a blind whiting

 Ugly little bugger.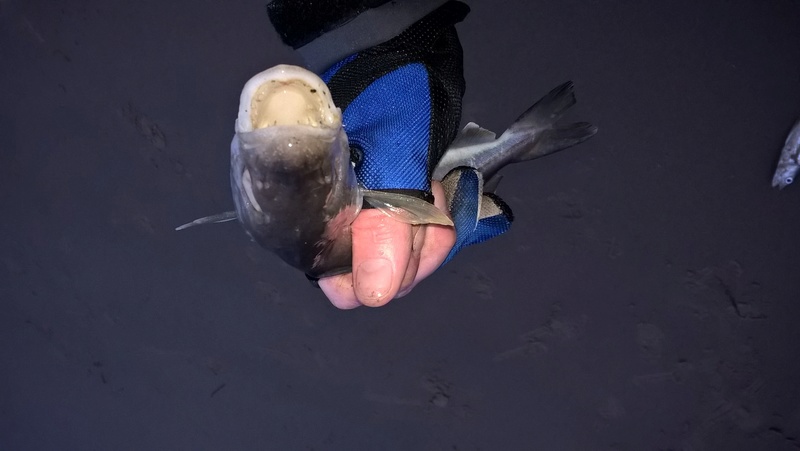 A little warmer than THS as we were dressed for it this time, about 1hr before low the bites dropped off but we kept at it. We called it a day a little after low and made our way back to the car. Near the fort we bumped in to 2 of the match guys who had thrown the towel in, one metre of fish they were on. The guy in the lead was on 6 metres! Apparently they were using fresh blow lug but had forgotten mackerel to tip it off like the guy in the lead was using. Hmm tip for next time maybe?
Long day but glad to be out. If your wondering, I ate that cod last night. I wondered what it was eating so did an autopsy

 it had 3 crabs in its gut.