I've had this reel for a few months now
and wow what a reel.
It is a small compact twin speed lever drag boat reel
with a full metal body and side plates.
In the fathom 15LD2 speed penn have added two very desirable features
to the Fathom range with the inclusion of both a manually selectable
two speed system and a legendary Penn Dura Drag lever drag.
The twin speed has a speedy High ratio of 6.1:1 but with just
a quick push of the button conveniently placed on the end of
the handle it drops down to a torque filled 2.8:1.
Should you need to speed up again to catch up with a fast running fish
a quick turn of the adjustment knob knocks it back in to high.
The Lever Drag is fully adjustable and allows you to set it perfectly to the
breaking strain of your line and yet instantly make slight adjustments to
the setting should the fight dictate it.
I have used an abu 7000i for all my boat fishing and this reel knocks the
socks of it well worth a look.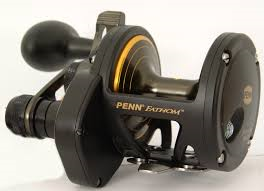 Features
o Full Metal Body and Side plates
o Forged and machine aluminium spool
o Dura Drag (TM) washers to virtually eliminate hesitation even under extreme load
o 5 x Shielded stainless steel ball bearings
o Double-dog ratchet anti-reverse
o Quick Shift (TM) 2-speed system (6.1: high - 2.8:1 low)
o Stainless steel main and pinion gears
o 9kg maximum drag
o Capacity 325m x 0.35mm
o Weight 442gm
Price wise there around £145 for the 2 speed model
stevo gives it a 10/10