My fishing mate Eric and I had been planning an Easter 3 day charter out of Whangaroa Harbour, 3.5 hours drive North, booked months ago. The weather gods were scowling a week before with tropical cyclone "Winston" having vented it's fury on Fiji heading straight for us, but as the weekend approached, it veered SW into the Tasman sea loosing oomph, then passed over us to the East on Thursday, not much wind but a bit of rain.
As quite often happens, after the storm a few days peace, with light to no wind for the following 4 days, though a fearsome swell running after 5 days of NE winds.
We had the option of using 3 of the 4 days, so decided on Sat Sun Mon, but drove part way and stayed Thursday night with Eric and Janet at Ruakaka beach, (where Judy was staying) I was up early, and saw a bit of red towards the east, so grabbed the camera and walked a minute to the beach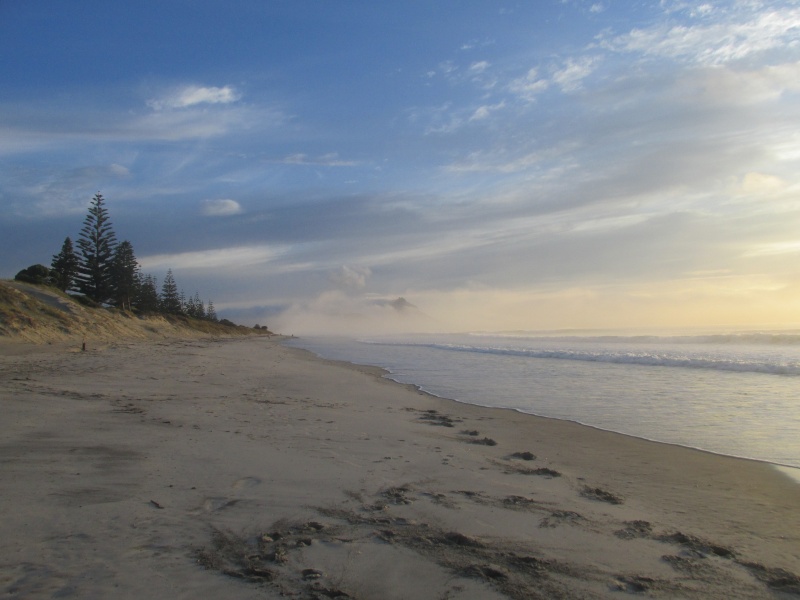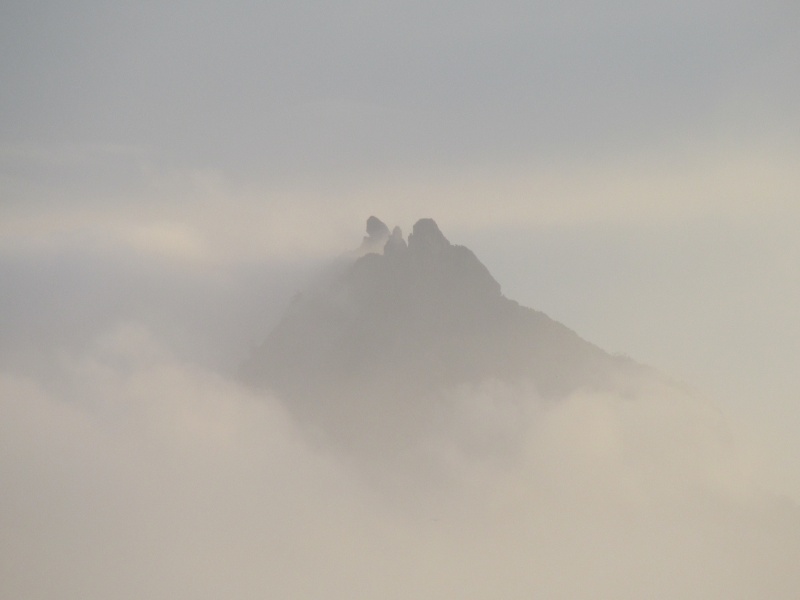 Whangarei Heads, with a zoom shot of Mount Manaia in the mist. (Just out of sight NZ's oil refinery adding to the mist)
After a morning tidying the garden, Eric, I and Steve piled all our gear into my car and headed North, reaching the marina mid afternoon and after loading the launch-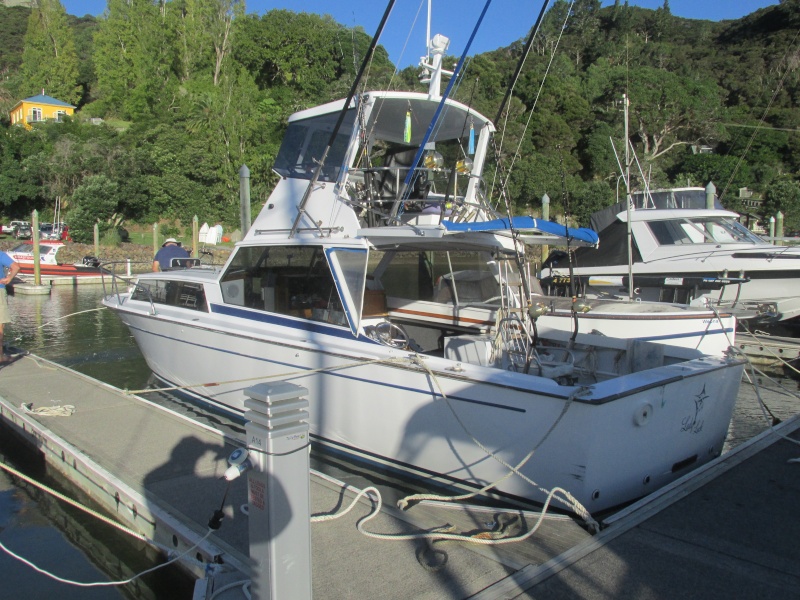 -set off to catch bait towards the entrance, joining a dozen other boats of all shapes and sizes doing the same. The most common baitfish are yellow tail mackerel, or scad to you, caught with a string of bait flies. with a dozen or so swimming in the tank, back to the marina and the game fishing club for dinner.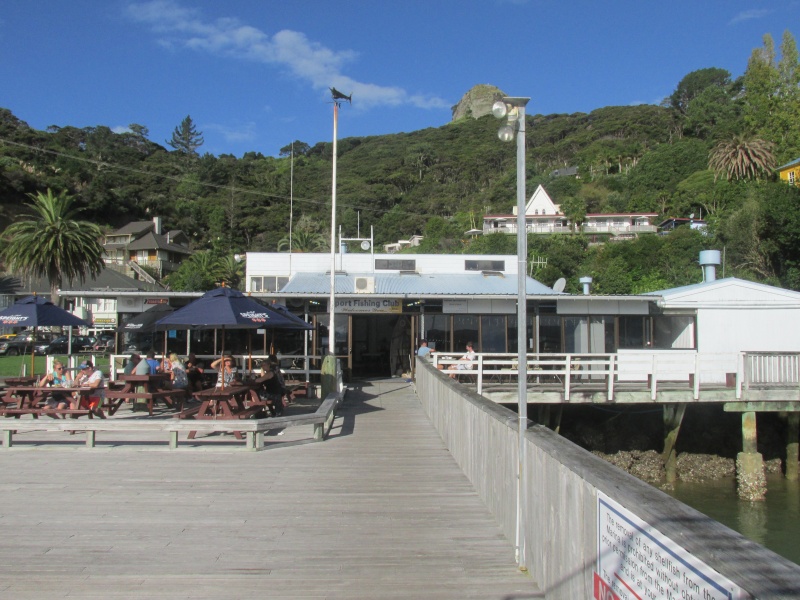 After a briefing for the classic boats gamefishing competition Eric and I had entered, back onboard and to a sheltered bay for the night. 6am breakfast and as the light came a view of the bay.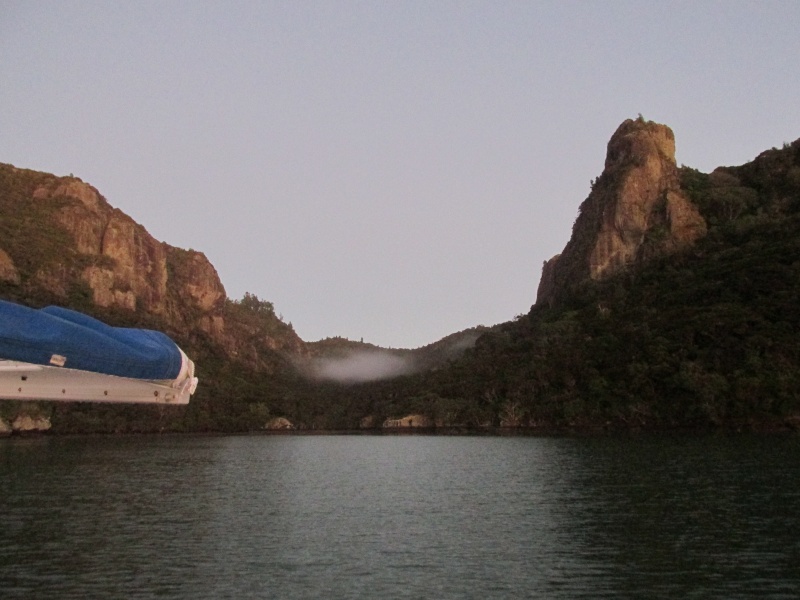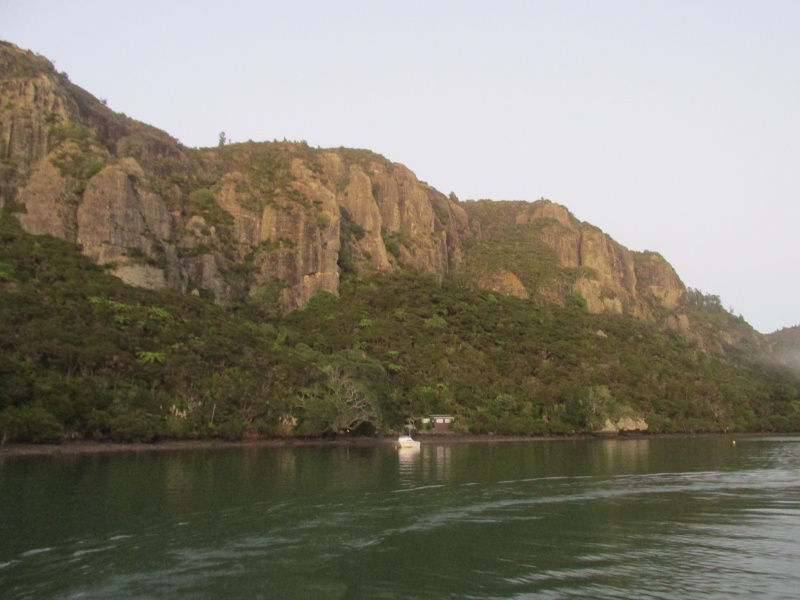 How is this for getaway spot?
And just inside the entrance Kingfish Lodge, boat or helicopter access only.
Guarding the entrance a relic of the war, handily used to mount a navigation beacon.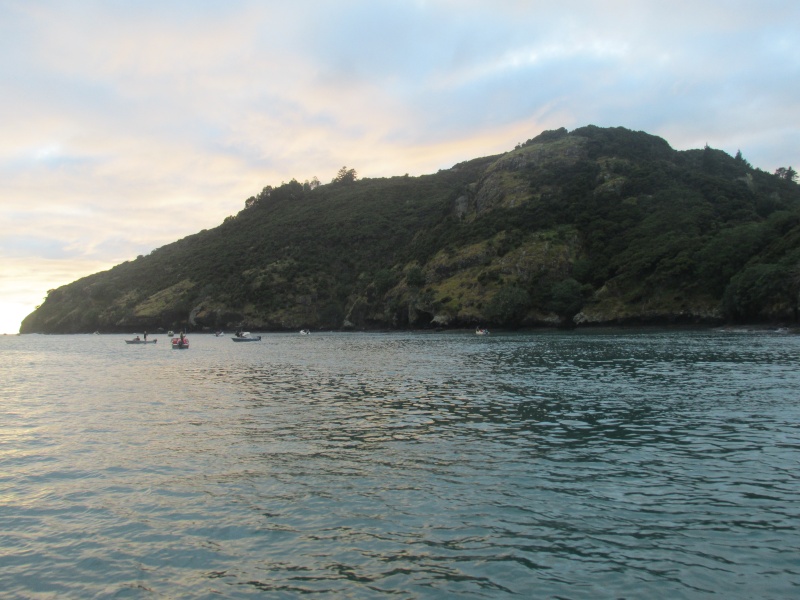 Part of the fleet trolling or livebaiting for Kingfish in the entrance, mostly rat kingfish here under the 75cm minimum length
The first 2 days we trolled for game fish with nothing to show but a few skipjack tuna on a handline, sorry no photo, they are a beutifull fish, irridescent silver with darker stripes on the flanks.
Apart from these the only gamefish seen were a striped marlin freejumping 5 times, and a yellowfin tuna of 20kg+ airborn chasing sauries (a bluewater garfish), though also seen were a number of manta rays, just a brown shape under the surface, and a wingtip when one dived, and a number of big sunfish which surprisingly at up to a ton and small fins can jump.
Though we did not weigh anything in, we did come away with a couple of spot prizes from the competition.
The last day we were chasing kingfish, slow trolling livebaits close to the rocks at the Cavalli Islands an hour south, with a bit of bottom fishing as well. Very slow, only one undersize kingy each.
Even the snapper were hard work, I caught the best one about  1kg, so back after kingfish before heading home, suddenly my livebait became frantic, then a steady run, up with the drag lever to strike, and nothing changed, line still peeling off, then Steve was into one too, both good fish. As Steves was nearer the boat the skipper elected to get that in first, so with the boat going slow ahead, I just hung on and lead it out to deeper water, a few crossed lines later Steve landed his 10.4 kg fish, then I could get stuck into mine which after a breather did not want to leave the bottom, a few winds up and back down again, I could not put too much hurt on it on 10kg line, so it was about 10 minutes before we could see it, a good fish. We had decided as there were only 4 small snapper to keep 2 kingfish for smoking, so in went the gaff and 14.8 kg of fat kingfish hit the deck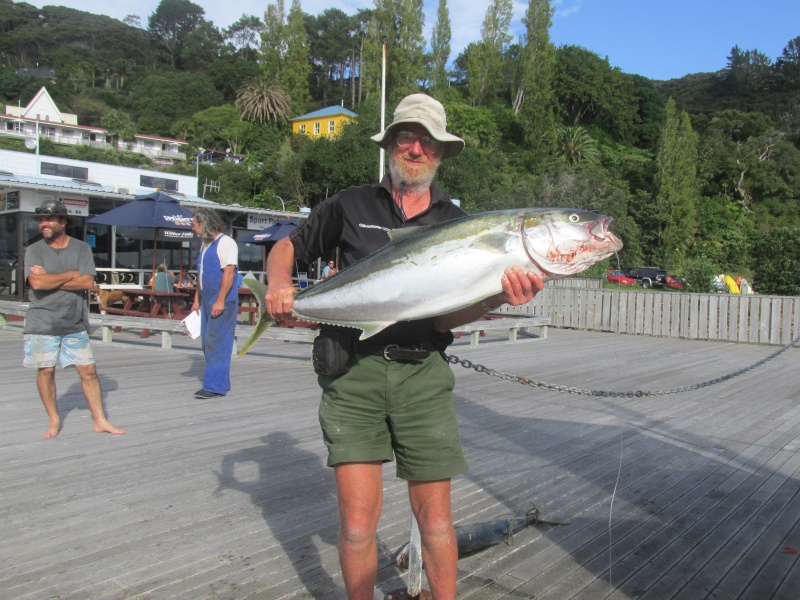 After getting them officialy weighed, and handed over to the smoking service we loaded the car and back to our dear wives who had been stripping wallpaper, with a bit of retail therapy and a few walks on the beach.
We stayed that night as Eric needed my car and towbar for a trip to the tip with building material. I was up early again.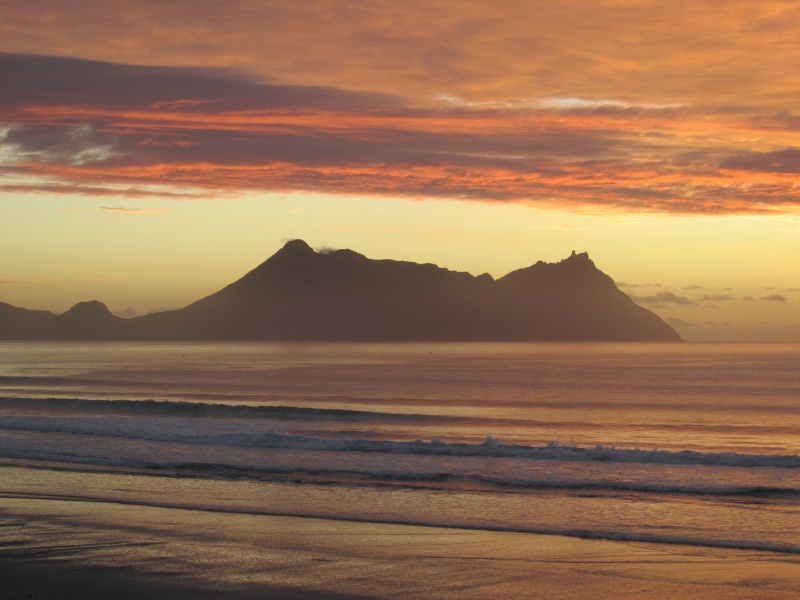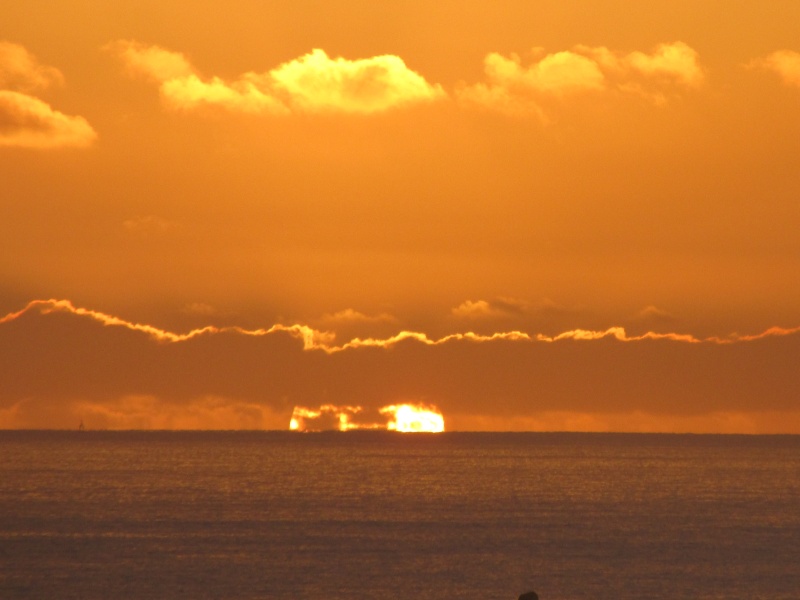 And so, home by mid afternoon after a great trip.
Cost, about 225 pounds, as the skipper only does charters as a hobby, not bad for 8 hours a day either traveling or trolling at 7 knots, breakfast and lunch included.   (are you listening Simon)
Eric's work took him up there later that week and he brought the smoked fish home.
We are coming to UK for September and October, some of the time based in Chester. Any bright fishing ideas.
I am away from Sunday for 2 and a bit weeks, a 5 day tramp at the NW corner of the South Island then a week at a farm forestry conference, then a catch up with friends, so will confirm UK dates then.
This only took me 3 hours!!!