Monday morning, It had not escaped the notice of a couple of us that a school of baitfish under the wharf were being attacked early morning and late evening by a dozen or so Bluefin trevally.
They did not usually start the attack, this was by a Longtom, a bit like a piper but a meter long with rather more teeth. One would launch itself into the air and dive on the school, in came the trevally and the water turned to foam, Luckily I had a telescopic spinning rod and a few lures. A small spoon cast into the action saw me catch two of about a kilo, which were quickly claimed by the kitchen staff.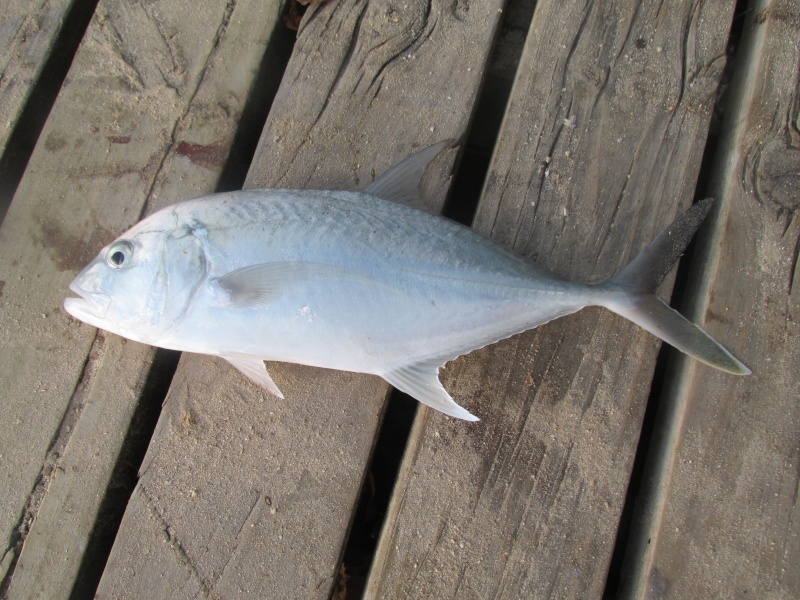 At last, some action on the game fish front, with a blue marlin about 90Kg tagged and released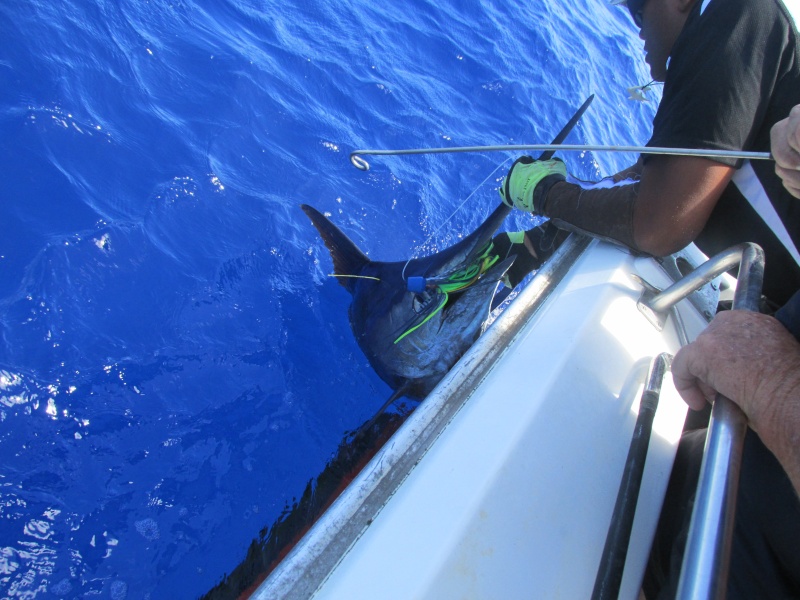 Then I was in the action with a small bull mahimahi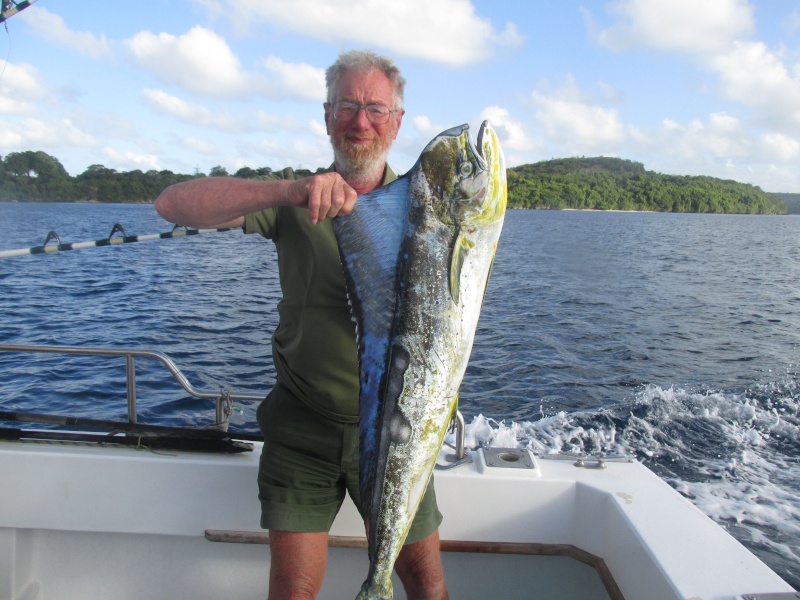 Most boats ran 5 lures, 2 from outriggers and the four anglers had 15 minutes on strike, each taking a turn for the first spell of the day. I spent most of the time looking for birds, and we saw some good workups, but they were only skipjack tuna up to 5Kg, too small for the lures we were using.
The marlin seemed to strike away from any bird action, but mahimahi were often found with a couple of terns above them dipping down to the water.
The last day for us was the best on a boat named "Fighting Lady" there was plenty of bird life, with some huge flocks on the edge of "the bank" (only 500m), I noticed the skippers did not seem to want to leave the deeper water, they were a bit fixed on marlin, but then that is their prime fish. We did go to one huge workup and caught one small yellowfin tuna, then on the next pass a double hookup, and I got one at 8Kg, at least a bit of fun.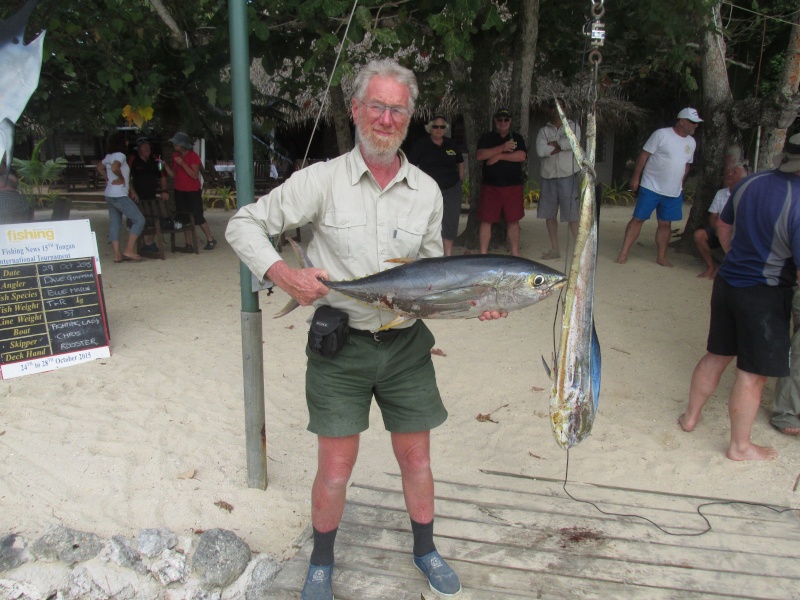 I could not resist this photo on the way to the start on the last morning.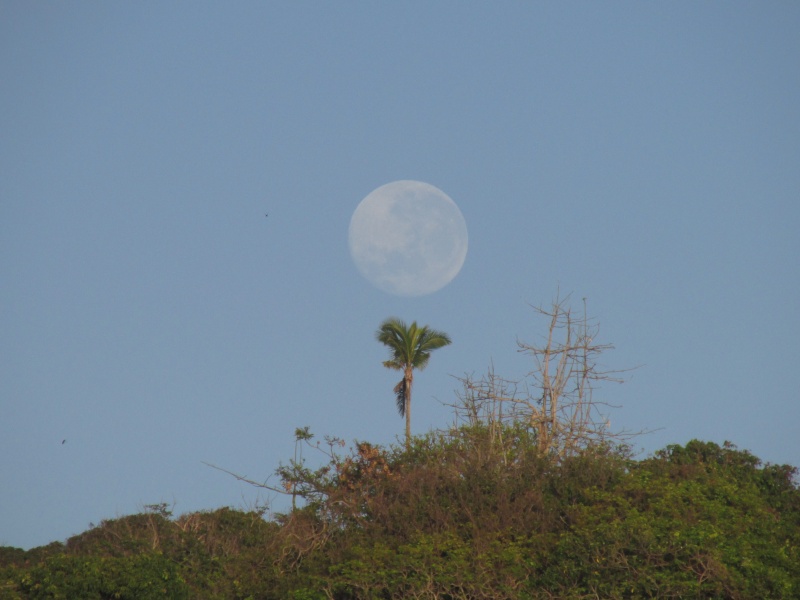 For the last day we had 9 strikes, I caught the yellowfin and a mahimahi of 11.6 Kg, and was on strike when either a small marlin or a sailfish pulled some line before dropping off. We tagged another marlin, dropped another and caught a couple of mahimahi. As far as game fishing goes, as I was on strike for 2 hours during the day, not a bad result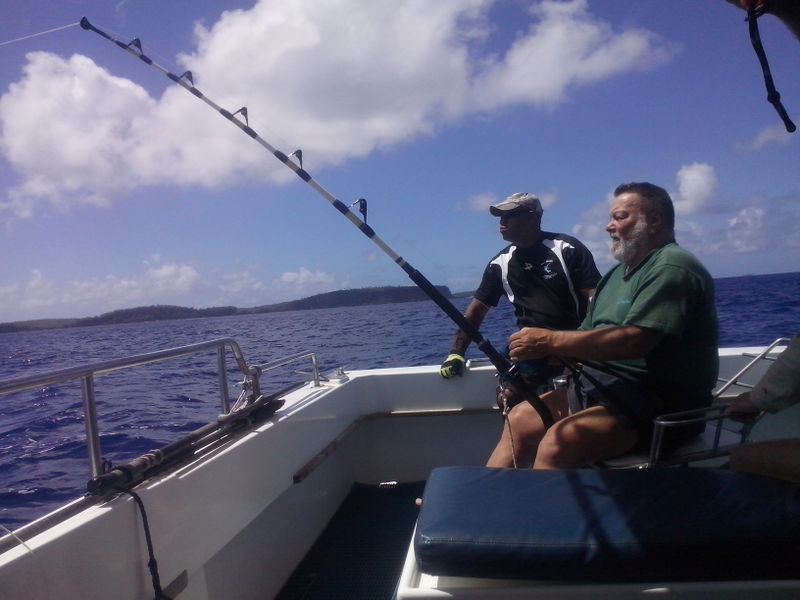 One of our crew on a marlin, on 36Kg gear.
There was one epic battle on one boat, a very large marlin was hooked, and after 3 hours the drag on the Shimano 80 blew up, they chased the fish and cut and attached the line to another rod and reel, then a cooling water hose split and sent a fountain of water over the crew. the fight continued with the boat on low power so as not to overheat. Suddenly everything on the boat stopped, sea water had drowned the batteries, at least no more water was coming in! The fish was now straight down, probably dead. with no power they could not plane the fish up, and could not gain any line, so tried handlining it up, but as a swell lifted the boat the line snapped.
A repair to the hose, then another boat which had been standing by gave them a jump start, and all back for a very late evening meal.
Murphy had a great day! five and a half hour fight and no fish at the end. The week before 2 blues nearly 300Kg had been landed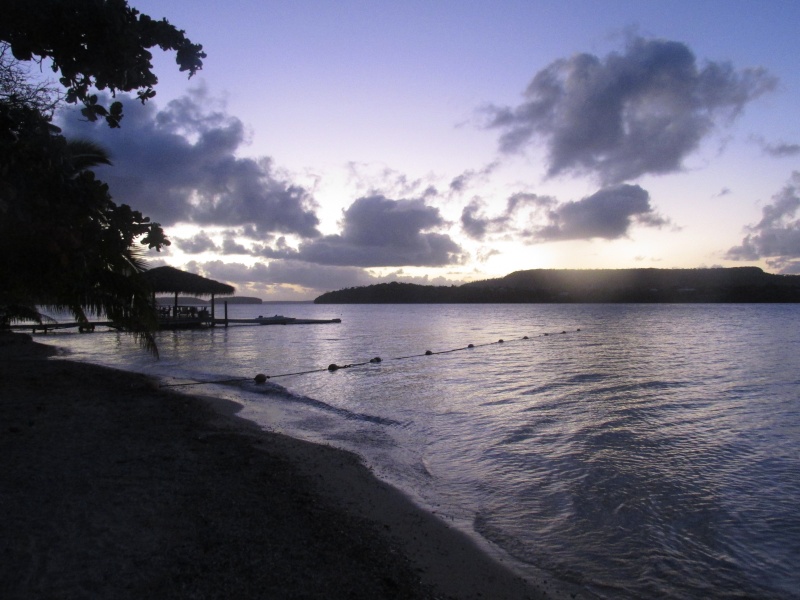 All in all, a great trip, plenty of boredom but some great adrenalin rushes, they say about game fishing 95% boredom 5% bedlam
I was as happy with the 2 trevally as I was with the larger fish, still to catch a marlin!
I will finish with a good old Pacific Island recipe.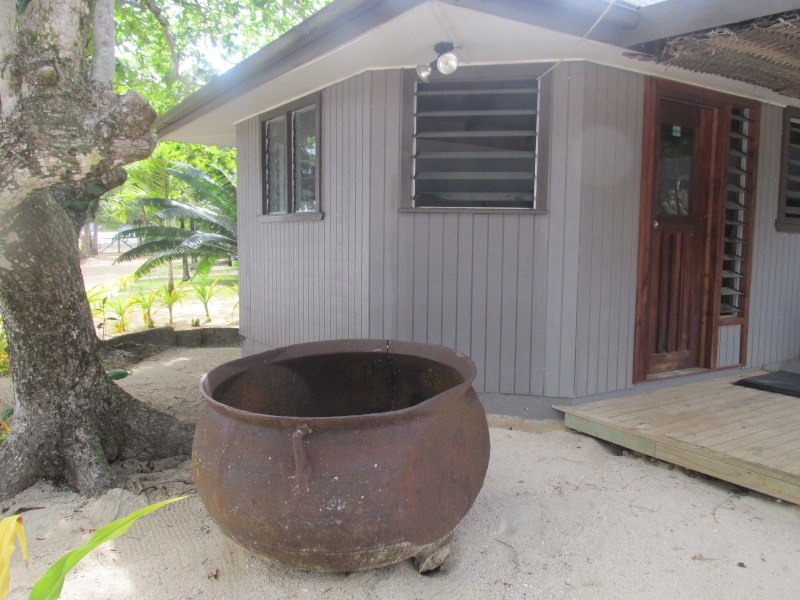 Ingredients //- 2 missionaries, 2 sacks of sweet potatoes, and some greens-----
Actually for boiling whale blubber for oil.