Well its taken me 12 long months
Ever since i took up fishing again after a long break from when i was a kid I've been on a mission to catch my first bass in twenty years... last one was my very first fish at the age of 9.
Had been out with Dave on Dignity quite a bit lately and when I got a phonecallfrom dave all i heard was the word BASS!!!
He then said something about live sandeel and excellent fishing conditions. I couldn't really hear him as I was running around the house like a blue arsed fly gathering everything i'd need with the phone held by my chin and a bassy fever coming on lol

Anyway i got my stuff together and head off to Felinheli at warp speed..... well as close as a diesel can get.
Met Dave and Ian at the mooring and we were all chomping at the bit in hope of some much deserved fishing.
With about 30 live sandeel happily swimming around in the bubbles of an aerator tank we were off for the evening.
I was first in with a cheeky lil mackerel spluttering and splashing on the surface... Not a bass but better than a dog!
Then as soon as i could get a fresh eel on the hook... (not as easy as it would seem as Ians eels are legendary for being frisky lil devils and I found it was as much of a sport hooking an eel as was landing a bass

)
I was off again and praise the fishing gods and Neptune himself
My first bass in 20 years (of which i've only been fishing the last one lol)
Not a monster but i really didn't care as you can probably tell by the big cheesy grin.
Then another
And another
By now i had 3 bass and a mack But the experts were lagging behind and starting to get itchy... The jokes still came but you could tell everyone was in serious fishing mode.
The race was on.
Then with a bump bump on my rod I was in again... Come on lads you can do better lol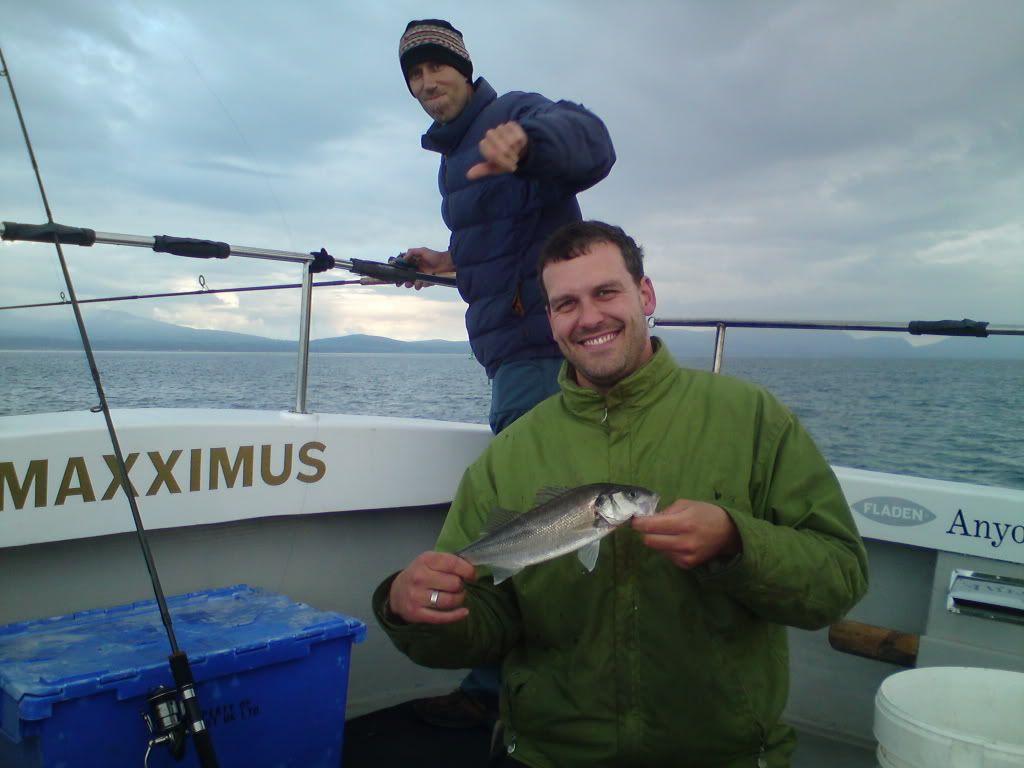 Well by now I was hungry and could hear my southern fried chicken pot noodle calling..... just as I was adding the sweet tomato sauce i heard a commotion at the back of the boat and Dave leaping like a Gazelle to grab a rod as it was bashing about.... It was my rod... OOPS! lol
Well I missed another fish but It didnt matter as i had completed my mission and food in my hand... I was happy
After another drift all went quiet for me but Ian got 3 and dave saved a blank with this
One of the best trips i've had in years!
Big thanks to Dave and Ian
Oh and the sandeels